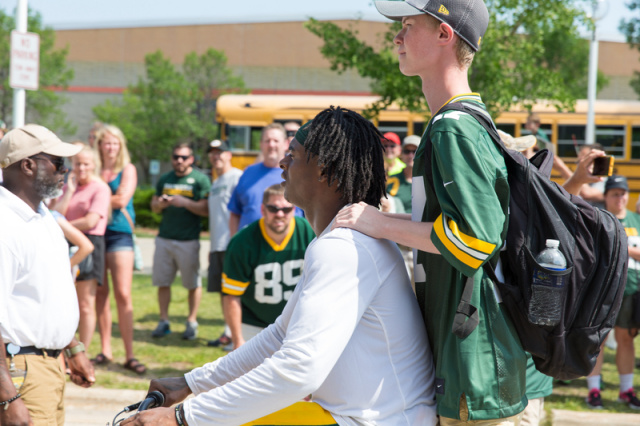 Davante Adams back when he was a Packer giving young fan a ride.
It's been a weird offseason for the Green Bay Packers, but that's pretty par for the course in recent years. The Packers managed to re-sign disgruntled quarterback Aaron Rodgers but in one fell swoop lost one of the best wide receivers in the league in Davante Adams. The absence leaves a gaping hole in the Packers offense although Rodgers has managed to perform well even without his star receiver in the lineup.
The Packers lost to the San Francisco 49ers again last year in the playoffs, after another strong regular season campaign. Special teams cost the Packers in the playoffs, and will likely need to be a focus along with their defense. With a weaker offensive unit on paper, Green Bay will have to rely on its defense and running game this year.
Luckily for Packers fans, the backfield is one of the strongest duos in the league with Aaron Jones and AJ Dillon. Many suspect that Dillon will begin taking on some workhorse duties this year, while Jones will play more of a receiving role in the offense. Jones has seen some injuries over the years and will likely be kept fresh for another expected playoff run. The offensive line remains mostly intact and returning from injury should be top tight end target Robert Tonyan.
The receiving core is where this gets interesting. It is a veteran group with Randall Cobb, Sammy Watkins, and Allen Lazard with a couple of rookies that are looking to crack the lineup in Christian Watson and Romeo Doubs. Rodgers has done more with less in his career, but there is no doubt the absence of Davante Adams and Marqise Valdez-Scantling will be noticed this year.
On defense, the Packers return a relatively strong core and added De'Vondre Campbell and Rasual Douglas, veteran players. The key will be first round pick out of Georgia, Quay Walker who will look to make an immediate impact at linebacker, in the same way that Micah Parsons did for Dallas last season. It could be that the Packers have the strongest defense they've had in years, taking some of the pressure off Rodgers and this new offense to win games. </p>
Green Bay is still the toast of the NFC North, and with Detroit and Chicago still a few years away from truly competing, and Minnesota on the tail-end of its Kirk Cousins era, the Packers should still win the division. The defense will be tested with Dalvin Cook and Justin Jefferson in Minnesota, and the Lions revamped offense, we could see some high scoring affairs in this division.
Ultimately it will come down to how well Rodgers adjusts without Adams by his side. No receiver comes close to matching his abilities, so expect the Packers to lean on their running backs a lot this year. As mentioned, the Packers should still win the division, but I'd put them at a tier below Tampa Bay and Los Angeles this year in the NFC playoff race.
Joey G.

Bet the NFL at Jazz Sportsbook and with first deposit get a welcome bonus of 50% up to $1000.