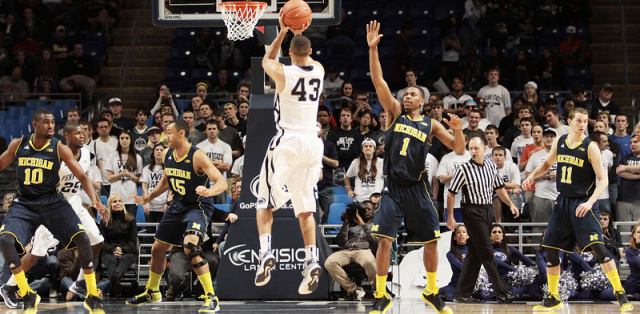 Sunday morning Big Ten action starts with two long-time rivals clashing in Madison, Wisconsin. The Wolverines find themselves on the March Madness bubble, currently sitting seventh in the conference, with a mediocre 14-10 record. Perhaps the oddest thing about Michigan's record is how well it has performed in some metrics. It is currently ranked 58th in the nation in offensive ranking and while its defense could certainly use some improvement, it's difficult to see why this team simply hasn't outscored its opposition. It outranks Wisconsin in key metrics like rebounding, field goal percentage, and true shooting percentage.
Michigan does come into the game winners of three of their last four, and do seem to be turning things around for the stretch run into March. But still, they will need to do well against stronger divisional opponents like the Badgers to make their case for the tournament. Wisconsin also comes in winners of three of the last four, although a questionable loss to Rutgers at home makes you wonder if the Badgers are really made for a deep run in March. It's a tough end to the season for Michigan who faces Rutgers, Illinois, Michigan State, Iowa, and Ohio State. They'll need to scrap together some wins in that stretch. At this time of the year, I look for the more desperate teams. Michigan knows it needs wins, while Wisconsin could be looking ahead to the Big Ten tournament already. Take the points with Michigan who will likely be a road underdog in Wisconsin.
Joey G.
BetUS currently has a welcome bonusof 125%. Visit Betus Sportsbook to view all bonus plans.